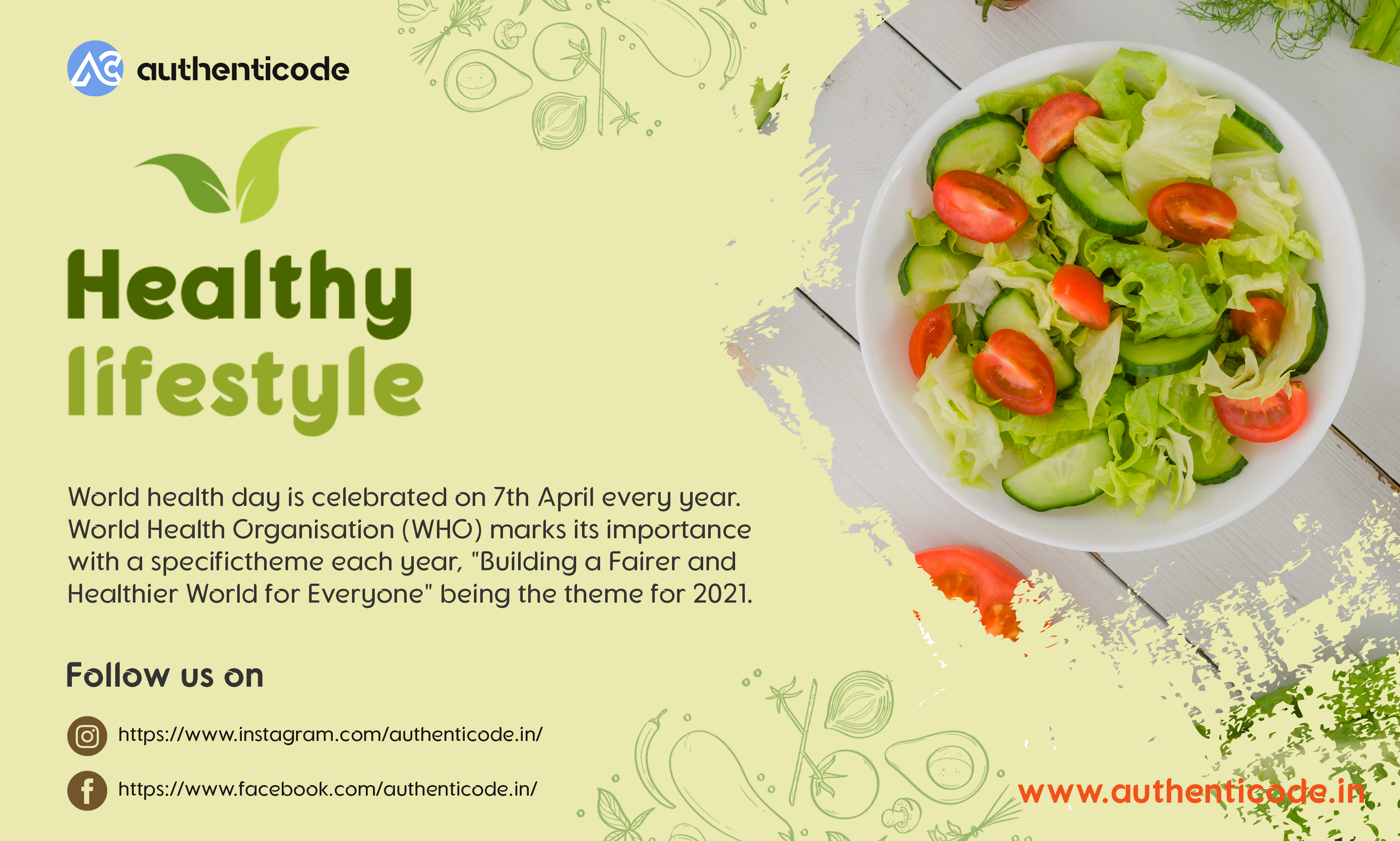 Healthy lifestyle: Importance and Approach
World health day is celebrated on 7th April every year. World Health Organisation (WHO) marks its importance with a specifictheme each year, "Building a Fairer and Healthier World for Everyone" being the theme for 2021. WHO organizes advocacy campaigns on this day and spreads awareness among people regarding the importance of a healthy lifestyle. Over the past 60 years, it has drawn the attention of people towards health issues such as mental health, maternal and child care, and physical aspects of health as well.
Even after such awareness programs being conducted from time to time, people barely have an effect on them. They tend to be negligent towards the importance of health. With the onset of technological advancements, human has been severely been affected and has become prone to diseases, skinand breathing problems. Eating junk food, no exercising, increased screen time, smoking, and sleeping less are just a few examples of how human has been neglecting his health. Fertilizers and pesticides used during farming processes have been adding fuel to fire. In the race of superiority, people tend to forget about their mental wellbeing and physical health and are ultimately left behind wreathed with a number of diseases like obesity, stress, heart and blood pressure problems, etc.
As it has been rightly said by Mahatma Gandhi that "It is health that is the real wealth, and not pieces of gold and silver", it is high time that humans should pay heed to the importance of being physically and mentally healthy. There are few steps thateveryone can adopt to achieve better health:
Eating healthy meals:
Eating a balanced diet that contains a good amount of minerals, vitamins, proteins, and optimum carbohydrates can help to build our immune system more effective in fighting diseases. Lean proteins improve the overall metabolism of the body. Green leafy vegetables, fruits, milk, grains, and cheese constitute an important part of a balanced diet.
Importance of water:
Keeping the body hydrated plays a vital role in how your cardiovascular system, muscles, and joints work. Water improves skin, hair quality and helps to get rid of toxins from the body at the same time. It regulates body temperature and helps with nutrient absorption.
30 minutes of daily workouts can do wonders for the body. It also helps to get rid of extra fat and lactose stored in the body and helps to gain muscle mass. Proper warming up before the exercise goes without saying. It removes mental stress too. Physical activities improve your health and reduce the risk of developing several diseases like type 2 diabetes, cancer, and cardiovascular diseases. It would help the body in long run.
Yoga and meditation:
Daily yoga practice and meditation ameliorate stress and mental tension. It promotes self-healing, helps in increasing flexibility, muscle strength, and improves body structure. Yoga enables oxygenation in the body which results in a reduction in blood pressure and thus optimizes it.
Sleep:
According to research, the human body needs sleep of at least 8 hours a day to enable it to reboost itself for another day of physical and mental work. Poor sleep is linked to higher body weight and therefore to heart, stomach, and liver-related problems. It improves concentration, productivity and increasesathletic performance.
Adopting the above-mentioned points can surprisingly help you to change your sedate lifestyle and can help you to lengthen lifespan too. Health is a significant aspect of life and shouldn't be ignored.
I Hope you enjoy this blog
Thank You