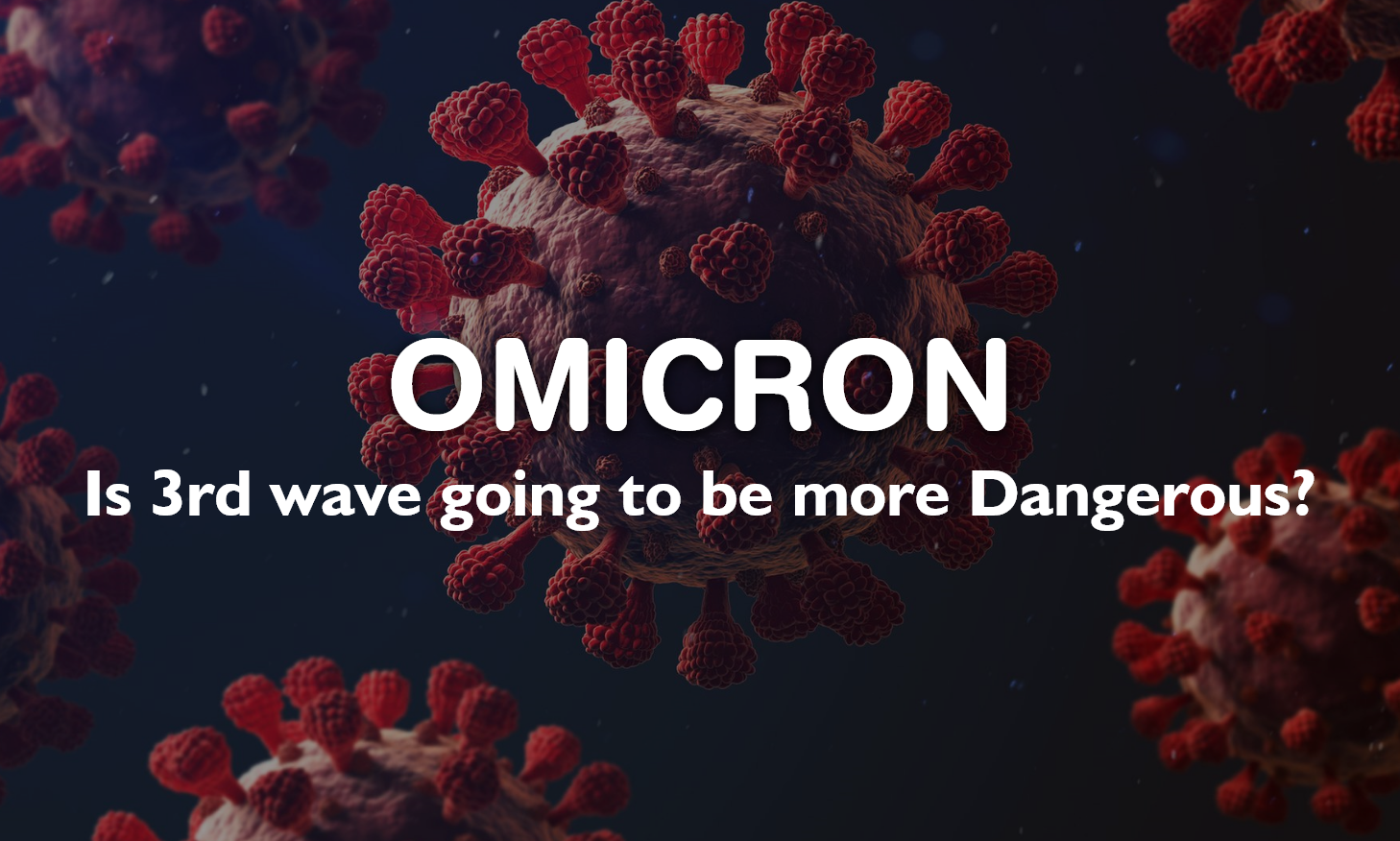 OMICRON Is 3rd wave going to be more Dangerous
WHO (World Health Organization) had declare omicron a variant of concern on 26th of November, Due to sudden jump in cases of omicron.
#Background
Omicron also known as mutation. Form of COVID 19 (SARS COV 2), researcher have given different theory regarding its origin like 1) Omicron emerged from an Immunocompromised (a person with weak immune system) patient. 2) From reverse zoonosis - human to animal and then transmission from animal to human. Example - Virus from human enters into animal and then virus mutates itself and again transmits into human.
#Current situation in India:
After 2nd wave in India there were very less cases that were reported, but due to new mutable omicron virus, again situation is becoming worse in country. Cases are rising each day in India and also in the world. According to report and data UK is considered with higher cases and India rank 12th as far as the no of omicron cases.
#Is it Dangerous?
According to South African study report there are 70 % lower chances of hospitalisation from omicron compared with other variant. Scientists say that it's more contagious, but it does not appear to transmit in ways that are different from earlier versions of virus. You have to apply same Precautions as before even if you are fully vaccinated.
# How it's Different from Other Variants?
One Possible Difference is that it's may be less likely than earlier variants to cause a loss of taste and smell. Research suggest that 48% of patients with earlier covid strain reported loss of smell and 41% of patients reported loss of taste. From an analysis of small omicron outbreak among vaccinated people in Netherlands found that only 23% patients reported loss of taste and 12% reported loss of smell. It is unclear though that it happened because of omicron or some other factor like vaccination status.
Other Difference is that it seems to have shorter incubation time i.e. after a person is exposed it takes almost 2-3 days for symptoms to occur, become contagious and test positive, compared with 4-6 days of delta and earlier coronavirus.
The new research study said that some biological feature specific to the omicron variant by Sars Cov 2 make it less danger than Delta.
RESEARCHER ALSO SAID THAT ONE SHOULD NOT TAKE IT LIGHTLY.
#3rd wave may reach its peak by the end of January:
State Bank of India economic research department made a report in which Dr Soumya Kanti Ghosh, group Chief economic adviser, said that with rising 20,971 daily cases COVID 19 third wave is achieved its peak in Mumbai, Now new covid cases has been stabilised in Mumbai. Although Cases were increasing in other state also so if other states also implement rule take strict measures then "National peak may come within two to three weeks after Mumbai peak".
At the end I just want to conclude it with:
STAY SAFE STAY CLEAN STAY HEALTHY
WEAR A MASK
I hope you enjoy reading this blog and also gained some important information
I Hope you enjoy this blog
Thank You