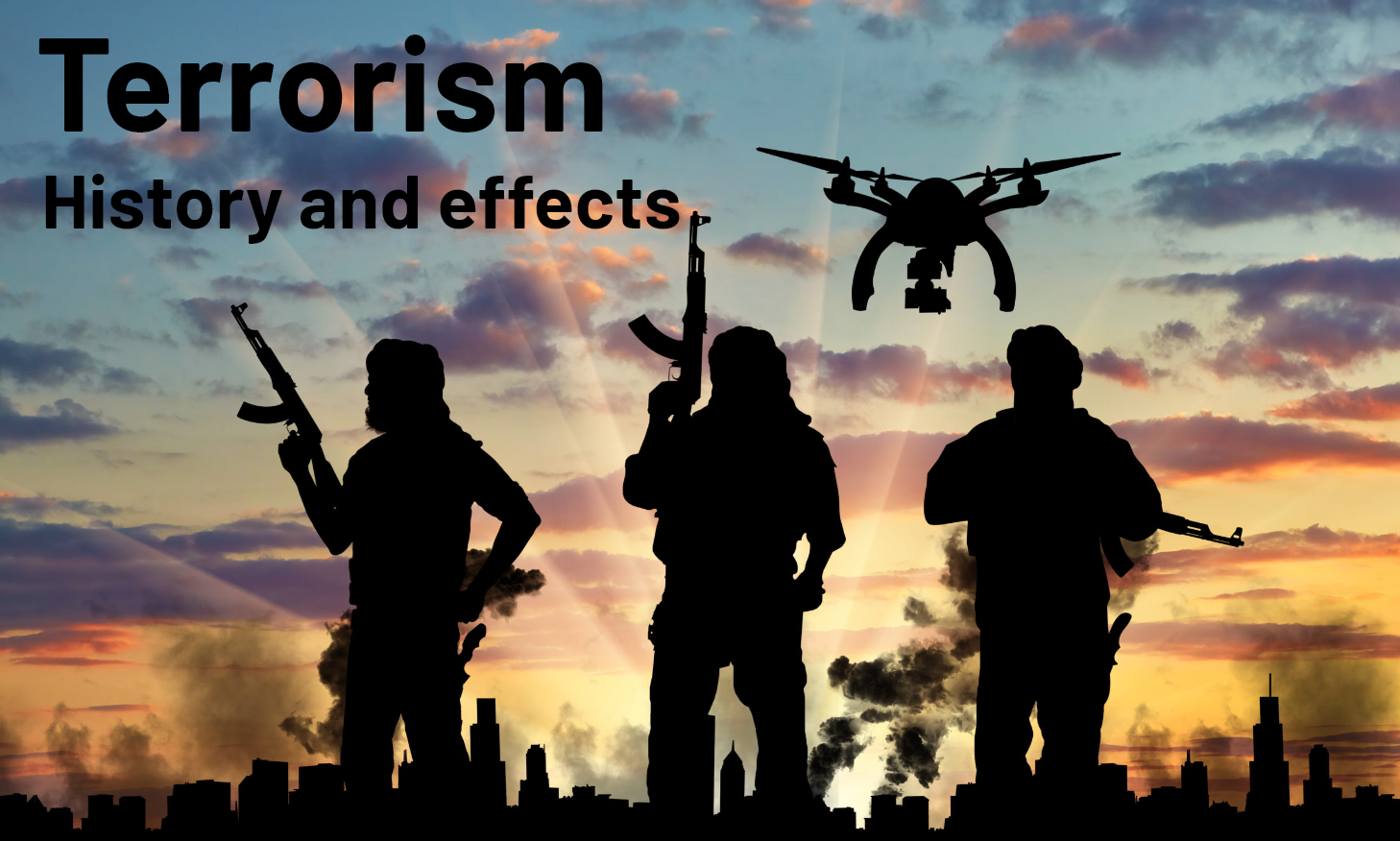 Terrorism: History and effects
Terrorism has been one of the main headaches that the world has been suffering from for a very long time. It is the use of unlawful acts of threats and terror created among masses of people to achieve political, social or non-political goals. Chemical, biological, nuclear and radiological weapons are most generally used in most of the terrorist attacks. The words "terrorist" and "terrorism" were first used in the French Revolution (1790s) but gradually became more prominent in 1970s during the Northern Ireland conflict, the Basque conflict, and the Israeli–Palestinian conflict. Terrorist attacks include a lot of means and ways including airplane hijacks, mass shootings, suicide bombing, kidnappings etc. These all means have generally a common goal of terrifying and killing masses of people and make government bow down to their political/ non-political demands.
Schools, buildings with political connections (such as parliaments, embassies), railway stations, shopping centres, night clubs are generally the soft targets for terrorists to capture, terrorize and kill people. In addition to physical terrorism, terrorists also use social and mass media to fulfil their demands. They use broadcast streams such as television, radio and internet to raise their voice and convey it to people and government. Conventional bombs and explosives are used by them to damage and destroy financial, political, social, and religious institutions. They plan these attacks in public places and on city streets to maximize the terror and number of deaths. Al-Qaeda, Boko Haram, Islamic State of Iraq and the Levant, Lashkar-e-Taiba and Hamas are the major terrorist groups which have been involved in major terrorist attacks all around the world. 9/11 WTC attack, 2014 Peshawar school massacre, 2015 Paris attacks, Istanbul nightclub shooting are just few examples of cruelty of these terrorist groups. Religion has often been linked to terrorism but this theory is no longer true. Latest attack in London shows, once again, that actual terrorists tend not to fit the anti-Muslim stereotypes that Islam-bashers propagate. Barack Obama well said that, " No religion is responsible for terrorism and violence, it is the people who are responsible for it."
Although the terrorist acts and attacks are technically well planned beforehand, but there are a lot of ways through which their effects can be minimized and avoided too. Being extra cautious and alert in places with large numbers of people, such as metro stations, night clubs, festival gatherings, concert venues, and shopping centres is the most important way that should be adopted to avoid any kind of terrorism related misshaping. One should constantly keep an eye on any unattended suspicious belonging (such as suitcase, bag pack etc.), vehicle or any suspicious person too and report it to the nearest concerned security authority or can call at national emergency number 112.
If you still find yourself in the middle of a terrorist attack, get under a table, shelf or desk if things are falling around you. When they stop falling, leave quickly and look for exit ways. Avoid elevators. windows, glass doors, or other potentially hazardous objects and areas.
I Hope you enjoy this blog
Thank You