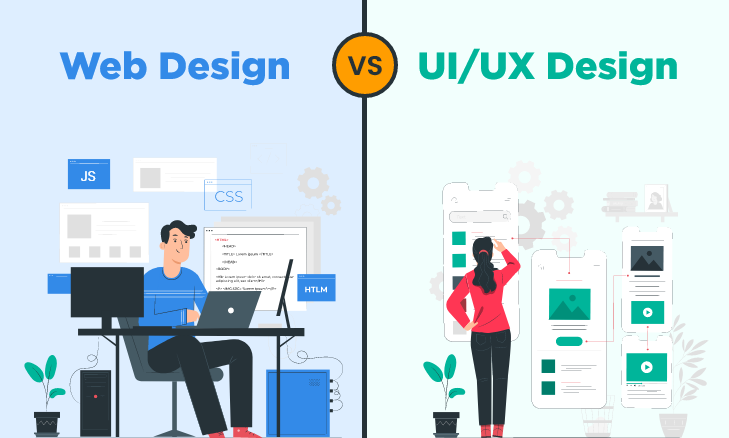 WEB DESIGN & UI/UX: THE BASE OF DEVELOPMENT
WEB DESIGN & UI/UX: THE BASE OF DEVELOPMENTWhat is Web Design?
The website design presented on the Internet is called web design. It is usually related to the user experience component of website creation, not software development. Previously, web design was largely concerned with developing websites for desktop browsers; however, mobile and tablet browser design hasbecome increasingly significant since the mid-2010s. Web designers are responsible for the appearance, design and, insome cases, the content of the website. For example, appearancerefers to the colours, fonts, and images used. The way informationis organized and grouped is called layout. A good web design is easy to use, beautiful, and suitable for the target audience and website brand. Many web sites are designed with the goal of being as simple as possible, with no extraneous material or features that might confuse or distract visitors. Because winning and building a website that is trusted by the target audience is the cornerstone of a web designer's work, minimizing potential areas of user deterioration is a major issue.
Responsive and responsive design are the two most prominent ways to create websites that work efficiently on both desktop and mobile devices. The content changes dynamically according to the screen size in the responsive layout; in the adaptive design, the layout size of the website content matches the popular screensize. Maintaining user trust and participation requires a design that is as consistent as possible across devices. Because responsive design can be challenging in this regard, designers must exercise caution when giving up control over the appearance of their work. If they are also responsible for the content, they may need to improve their skills, but they will benefit from complete control of the end result.
What is User Interface and User Experience Design?
First, let's define the term "user experience." The user interacts with the product, and the user experience (UX) is just the user's experience when using the product.
UX design is the art of creating things to provide users with the best experience. If this description sounds broad, it's because user experience design is inherently broad. Creating the best userexperience requires knowledge in psychology, interface design, user research, and various other disciplines, but it also requires iterative problem-solving methods. The look, feel, and ease of useof the User experience can be divided into three categories. The style of products is to use image and user values to establish a sense of harmony, thereby generating credibility and trust. It's about making products that not only look good but also look right. Make the experience of using things as pleasant and enjoyable as possible, that's all it feels. It is created by carefully structuring the user's interaction with the product and their reaction during (and after) use.
Finally, usability is the foundation of the user experience. Simply put, if a product cannot be used, no amount of beauty can save it,and users will only feel angry and dissatisfied. In theory, products should adapt to user needs and provide functions in a predictable manner.
What are the similarities and differences between web design and user experience design?
The term "web designer" has multiple definitions, and the web designer runs mainly by customer or project needs. Some of the web designers create only aesthetic design and interactive prototypes of luxury websites, and websites encoded to front-end and back-end developers. On the other hand, most web designersare active both in the website design and on the development of the website. Some web designers regularly perform research and user testing as part of your occupation (and if you are one of them, it is almost always ready for the UX design position that is finished).
But whatever paper as a web designer, there are several featuresof web design that can be useful for UX design.
Problem Solving:-
UX designers take problems with their users, but web designers handle their client problems. Web designers solve their problems with their work. Web designers are established by websites and are frequently involved in additional tasks after testing websites, user entry and then repetition of design.
This repetitive task is comparable to the user-imperative design method (shown in the figure below). User's research is a place where the UX designer begins. It is important to learn about the potential consumer of the product and learn about your problems,solve and learn how users need the answer. User's surveys are frequently performed through user interviews, observation, demography and creation of users' stories and characters. Subsequently, UX designers will create a design solution that addresses the main user, and will often return to the consumer to evaluate the validity or ease of prototype use. After the product ofUX designers has been launched, get more user comments and this information is provided to the research of fresh users and resumes the process.
When you complete the user research as part of your web designer occupation, you have a PEAT to compete in UX design. Otherwise, there are no sufficient opportunities to learn how to douser research (you can read the details).
Emotional design:-
Web designers often use typography, colour, and layout to influence consumer emotions when developing websites. For example, the use of darker tones and serif fonts can create credibility; similarly, the use of colourful images and vivid typography can create a sense of enjoyment. Emotional design is a design familiar to web designers to stimulate the emotional response of the user. Emotional design is also important to UX designers, but in a broader context, they focus on generating userfeelings throughout the product experience.
UX designers use a variety of tools to accomplish this. In addition to fonts and colours, they also include psychology, animation design, content planning, and information architecture. The web designers who make the conversion already know the emotional design involved in the user experience; all they need to do now is to acquire new skills in other areas to supplement their ability to do this work on a larger scale.
The Differences between Web Design and UX Design:-
User-focused vs technology-FOCUSED:-
As a web designer, you will spend a lot of time keeping up with the latest developments in HTML, CSS, and other coding languages, which are evolving and improving at an extremely rapid rate. Which browsers support which version of CSS? Can I use CSS animations in Safari on Mac? Not to mention Internet Explorer! As a web designer, you might have some questions (andproblems) all the time. On the other hand, user experience designdoesn't care about technology. Instead, it is completely focused on the users, and the technology only serves as a tool for them toget what they need. With just the user at the centre, UX designerscan provide solutions tailored to their individual needs, so users are more satisfied. UX designers do extensive user research to learn as much about their users as possible, which is something that most web designers don't get a chance to do.
UX is more than the web:-
UX design is platform independent. Its principles and procedures are widely used in applications other than web browsers, including mobile applications, desktop software, and even hardware and retail environments. On the other hand, web designand web browsers are inseparable. This means that UX designers can work in various fields, not only in fast-growing fields such as IT companies, but also in mature and stable businesses such as automobile manufacturing. As long as there is a product, there will be a demand for UX, which opens up a whole new world of possibilities for you.
Conclusion:-
So the UX designer decides how the UI works, the UI designer decides the look of the UI, and the web designer assembles it intoa state-of-the-art website. This is a community-cantered approachand the three areas often work closely together. Although the UX team focuses on the flow of the application, how the buttons guide you through the website, and how the interface effectively presents the data that customers need, the UI team is looking intohow these interface components will appear. On screen and on the web. The designers are putting all of this together.
If web design is an umbrella, then UX and UI design are a subset of that umbrella. Anyone who considers himself a web designer must have a good understanding of UX and UI. These are also industry specific words. UI / UX roles are mainly played by start-ups and digital organizations. User experience positions are sometimes more focused on research and information architecture. The UX role can sometimes be included in the UI role. Businesses occasionally look for web designers who can do all of this. Unless the goal is precise, everything will be a bit confusing. No matter which path you choose, remember that design is not only about making thingsbeautiful; it is also about solving problems, communicating, and people.
I Hope you enjoy this blog
Thank You